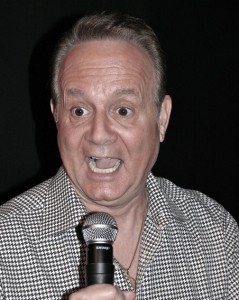 In 1977, Eddie took his music & entertainment experience and his degree in business and ventured into Nightclub Management in Fort Lauderdale. Over the next seven years, Eddie would turn five, late night establishments into the most innovative and successful night spots in Florida.
With his sites always set on entertaining, Eddie was cast as a Singer, Dancer & Comic for a one year run in a Hit Musical Show on Miami Beach. In 1984, Eddie set out to fulfill another one of his goals. So with his talent and experience, he began a lengthy career in the Cruise Ship industry as a Cruise Director and Comedian/Entertainer. Over the last 35 years, Eddie has entertained hundreds of thousands of people on Cruise Ships all over the world.
On land, the Godfather of Comedy performs in all venues throughout the state of Florida and much of the U.S.
Eddie Capone's Resume
Career Profile:
Thirty Five years of experience in the Entertainment industry.
Manager of four of the largest, most successful Nightclubs in South Florida.
Cruise Director on seven Carnival Cruise Lines cruise ships.
Has performed on a total of forty different cruise ships.
Professional Musician, Singer and Comedian.
Entertains in all venues on land across the USA.

Military and Education
US AIR FORCE ~ Honorably Discharged with Rank of Sergeant
FAIRLEIGH DICKINSON UNIVERSITY ~ Graduated with a BA in Marketing
Previous Positions:
Carnival Cruise Lines, Miami, Fl (September 1992 to Present)
FLY-ON ENTERTAINER
Each week I join one to two of the Carnival Fun Ships and perform five to six shows in the Punchliner Comedy Club.
Carnival Cruise Lines, Miami, Fl (October 1986 to March 1992)
CRUISE DIRECTOR and ENTERTAINER
CD of the Mardi Gras, Holiday, Celebration, Festivale, Tropicale, Jubilee and the Fantasy.
Produced the daily on-board newspaper, The Carnival Caper
Gave all Welcome Aboard, Travel and Debarkation talks.
Emceed all Production and Novelty Act Shows
Personally hosted and emceed every Ship's Activity including Video Diary Interviews.
Performed as a featured Entertainer (Comedian and Singer), during every cruise.
Carnival Cruise Lines, Miami, Fl (September 1985 to October 1986)
CRUISE STAFF and ENTERTAINER
Assisted the Cruise Director with all Activities and Duties on the following ships:
The Carnivale, the Tropicale, the Holiday, the Mardi Gras and the Jubilee.
Performed as a featured Entertainer on every cruise.
Jerry Grant Productions ~ Hollywood, Florida (August 1983 to April 1985)

ENTERTAINER
Employed as a Singer, Dancer and Comedian in this Theatrical Stage Production called,
The Wonderful World of Music.This extremely entertaining show and its Cast of Thirteen
played to a packed house and a standing ovations every Show.

New Horizons Productions ~ Palm Beach, Florida (March 1982 to April 1983)
TELEVISION SHOW HOST
Producer and Host of a travel-entertainment program produced for
National Cable TV distribution.
Directly involved in the writing, directing and over-all production of this Television pilot.
Bojangles ~ Fort Lauderdale, Florida (August 1980 to December 1981)
GENERAL MANAGER and ENTERTAINER
Hired and supervised all personnel at this very popular Nightclub.
Ordered inventory and computed pouring and percentage costs of all liquor.
Produced of over Fifty Variety Shows performing on-stage as the Emcee and Entertainer.
Increased profits and popularity by producing and appearing in several TV Commercials
Four O'clock Club Lounge, Inc. ~ Fort Lauderdale, Florida (January 1980 to June 1980)
GENERAL MANAGER
Completely re-designed and supervised construction of this 8500 sq.ft. facility.
Created a new concept including a Name and Logo.
Wrote and designed all advertising including press releases, print ads, signs, billboards
and radio commercials,
Hired, trained and scheduled 35 personnel and designed all new uniforms.
Selected and scheduled all Entertainment such as Showbands,Comedians and Novelty Acts.
Efforts resulted in the creation of one the most innovative and unique nightclubs anywhere.
JW'S Lounges ~ Lighthouse Point and Sunrise, Florida (January 1977 to November 1979)
GENERAL MANAGER
Duties entailed hiring, training and scheduling of all employees.
Inventory and pricing of all liquor.
Booking and Scheduling all Entertainment: Live Bands, Shows and Novelty Acts.
Produced and Emceed over 300 Variety Shows in both lounges.
Selected all advertising media.
Wrote a complete manual of nightclub policies and procedures.
The Galt Ocean Mile Hotel ~ Fort Lauderdale, Florida (November 1974 to May 1976)
MUSICIAN and ENTERTAINER
* Professional Drummer, Singer and Comedian in a Musical Comedy Show-Band called
"THE PERSONALITIES."
This highly entertaining trio performed as the house/show band at the landmark,
Galt Ocean Mile Hotel on Fort Lauderdale beach.
This one of a kind band also appeared every summer at the Yankee Clipper Hotel
in Fort Lauderdale and at the Marco Beach Hotel on Marco Island on the west coast of Florida.